Saturday 24 September 2022, at 9.00 pm, in Porretta Terme, in the Church of the Immaculate Conception (former Capuchin Friars), the last appointment of the two reviews "Porretta Soul Festival", directed by Graziano Uliani, and "Voices and Organi dell'Appennino "directed by Wladimir Matsic and Francesco Zagnoni.
Black Organ Music is the result of the collaboration between the two realities that move respectively in the fields of soul music and classical music for organ.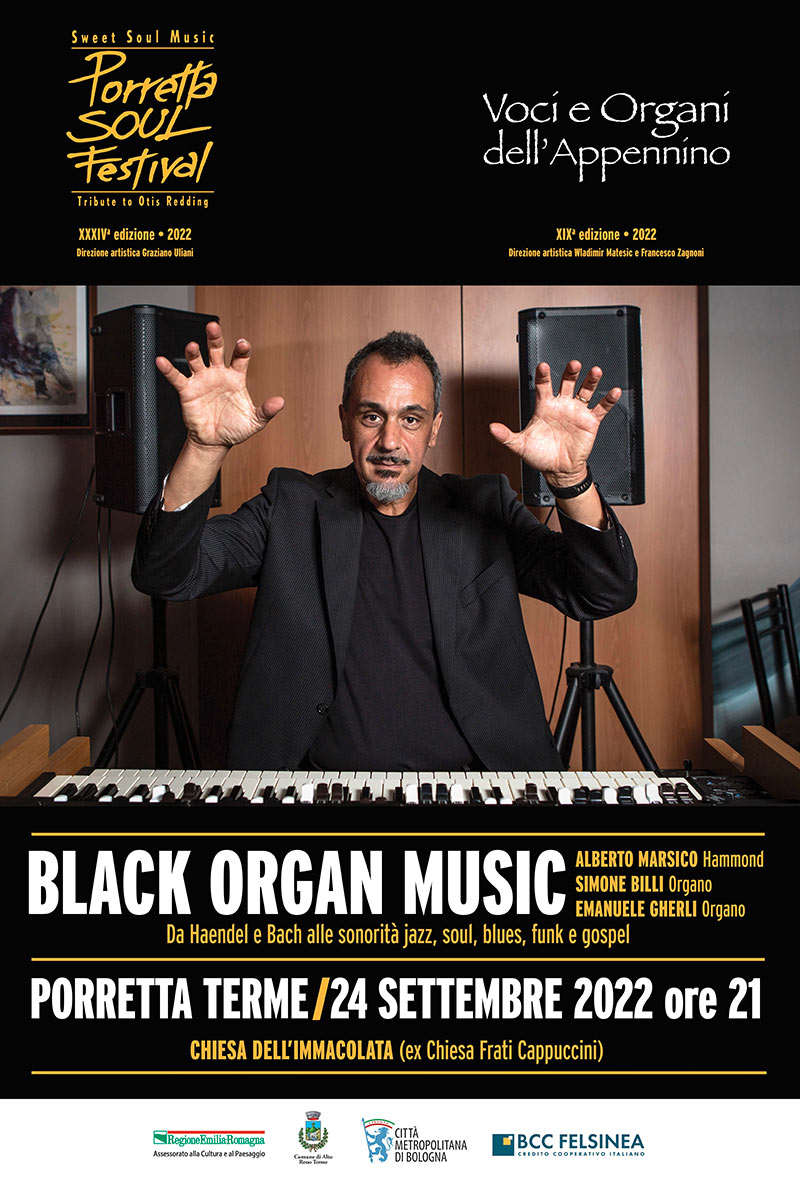 The idea behind this first experiment is to contaminate Bach's or Handel's music with soul, jazz and blues. In the first part of the meeting two young organists, recently graduated from the Martini Conservatory in Bologna (Simone Billi and Emanuele Gherli) will perform pieces by Handel and Bach on the Ruffatti organ of the church of the Immaculate, while in the second part Alberto Marsico will improvise ranging from sonorities that will range from liturgical to jazz / soul to the Hammond organ, which was among other things the first electric organ ever built, introduced in US churches in 1935 to replace the traditional instrument.
Alberto Marsico has worked with some of the biggest names in world jazz including Jimmy Cobb, Bobby Durham, Kenny Burrell, Joey DeFrancesco, Fabrizio Bosso, Jimmy Witherspoon, Enrico Rava, Jesse Davis and Alvin Queen.
He was the protagonist of the SuperQuark episodes in which Piero Angela explored the functioning of the Hammond Organ.
Countless performances all over the world with six solo albums and fifty in collaboration with other artists behind him. Marsico moves between jazz, soul, blues, funk and gospel sounds and is a great connoisseur of the Hammond organ.